Southern Christmas Tour
Day 1
Under The Hill -The Stone House - The Elm's
Upon your arrival in Natchez, MS you will be sent forth to explore the downtown history. Take a stroll Under The Hill and stop to grab a bite as you listen to the peaceful sounds of the Mighty Mississippi River. Nineteenth-century Natchez, in a sense, was a city with a split personality. There was Natchez proper and Natchez improper. Natchez proper was the town on top of the bluff; Natchez improper was the boat landing beneath the bluff on the bank of the Mississippi. Known as Natchez Under-the-Hill, this area of Natchez was described by numerous nineteenth-century travelers as one of the rowdiest ports on the Mississippi River. Once you've found your way around we will check in to the Natchez Grand Hotel.
Relax and get prepared for an evening soiree that will begin with cocktails at The Stone House. Enjoy sipping complimentary wine while relaxing to Classical Pianist Joseph B. Stone. His endowed musical career began in his early childhood. Beginning with the Piano, Mr. Stone later switched to the Clarinet before entering conservatory. Since 1997 he has played only piano and has a vast resume of performances. His accomplishments include appearances in New York's Carnegie Hall, the Library of Congress, Renwick Gallery, Smithsonian and countless more. His passion for music is bestowed with tour groups and visitor of all. But wait, your evening is just getting started.
Following your cocktail hour, walk across the street to The Elms owned by Chef Esther Carpenter. The Elms has been part of her family's history since the 1870's. We'll let Chef Esther tell you her story and where it has led her through the years as she takes you for a tour. Enjoy divine cuisine that has made her known around the world. Chef Esther's many talents are displayed in her paintings and food. Her art of cooking is some of the finest cuisines in the South. She has been voted one of the 20 best women chefs in the country by USA Today. Any meal she creates is one to write home about.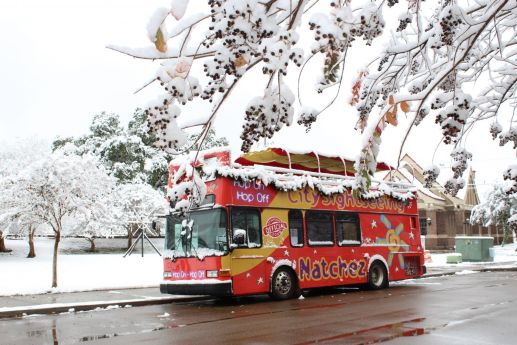 Day 2
Towers Jeweled Christmas & Monmouth Historic Inn & Restaurant 1818
As we start our second day in Natchez you will tour one of the most unique seasonal tours in the South, mixing Christmas with vintage custom Jewelry displays. The Historic Towers was built over three different time periods One of the most unusual and vivacious seasonal tours in Natchez is the Jeweled Christmas. The Towers mixes elaborate Christmas decorating with extensive jewelry displays. You will see thousands of pieces of vintage costume jewelry dazzle everywhere. Your next stop will bring you downtown again to enjoy a leisurely day. Try a new restaurant as you walk around and shop or just relax along the banks of the river.
Make sure you keep track of time and make it back to the hotel because tonight you will enjoy another evening dining in downtown Natchez. Begin sipping cocktails as you stroll through 26 acres of beautifully manicured gardens at the Monmouth Historic Inn. Don't forget to stroll through this early 19th century antebellum mansion to admire her beauty.
At Restaurant 1818, you will dine in what was originally the Men's and Ladies' Parlors of the main house. This quaint restaurant always serves delicious food the Natchez way.
Day 3
Natchitoches Christmas Festival & Merci Beaucoup
It is time say farewell to Natchez and hello Natchitoches! During our short drive, you will be provided a box lunch for on the road. Once you have arrived in Natchitoches, LA you will check into your hotel Chateau St. Denis. You are free to enjoy your afternoon relaxing or discover what Natchitoches has to offer.
Dinner is Southern Hospitality at Merci Beaucoup Restaurant. Family recipes created from scratch with the finest ingredients is what makes this restaurant a local hot spot for over 25 years.
Because you are in the heart of the historic district in downtown Natchitoches you are free to roam the city. Since 1927 Natchitoches, LA is home to one of the oldest community-based holiday celebrations in the country. Starting as a one-day festival, the celebration has evolved into a six-week-long Christmas Season. Begins on the Saturday before Thanksgiving and concludes January the 6th, the Epiphany. Over 300,000 lights and 100 plus set pieces are on display every night at dusk. Downtown attractions, carriage tours, food vendors along the downtown riverbank, shops and community organizations have Christmas programs scheduled throughout the season. Events take place in the Landmark Historic District and the Cane River National Historical Park area.
Day 4
Return to New Orleans
It is time say farewell to Natchitoches and begin our voyage home. Enjoy breakfast and Christmas Shop for that perfect gift. As you spend your morning at leisure, don't forget to stop for lunch before we journey home.
Tour Dates:
November 24-27
December 8-11 SOLD OUT
December 15-18
December 22-25
December 29-Jan 1 SOLD OUT
To book contact:
Janine Dazet
Office: 504-293-2326
Cell: 504-577-0611
jdazet@bigeasy.com
Rate Per Person:
Single Occupancy: $933
Double Occupancy: $693
Triple Occupancy: $612
Quad Occupancy: $572
Inclusions: Luxury Motorcoach Transportation Round Trip, 3-Night Hotel Lodging w/ Breakfast, 1-day box lunch, Tour Admissions, Dinner (Dinner Menus are included), 2 cocktail Receptions, Gratuity for all meals & Tax. Optional Tours in local areas are available for individual purchase. Individuals are responsible for lunch except for Monday. A boxed lunch will be provided on your motorcoach between Natchez, MS & Natchitoches, LA.