Game Day Itinerary From New Orleans to Tiger Stadium
Posted on: Oct 05 2018
The best way to enjoy your trip to Tiger Stadium consists of: great beer, the finest royal purples and old gold attire, tiger pride, and great road buddies.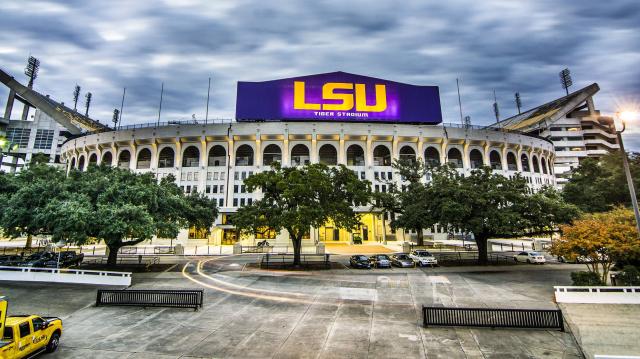 There's nothing like "Tiger Rag" live in a stadium home to one of the fiercest teams in college football. It all started in 1896 during an undefeated season when fans first used the famous nickname that carries so much weight in the Tiger stadium. With all this tradition and team spirit, it's hard not to want to catch a game for yourself. New Orleans visitors and residents can get in on the action and without having to drive themselves to the purple and gold city.
How are you getting there?
Get on a Rally Bus
There are so many perks to grabbing a round trip ride with this service.
1) You get picked up right in the city,
2) You're not stuck with being the designated driver so you won't have to worry about slowing down the fun,
3) after all the energy you put into your "Hold That Tiger" chant you can rest on the ride back home,
4) Making friends with other Tiger fans, and
5) No Parking! We all know how hard it is to find parking during an LSU game on their home turf. We say it's a win-win.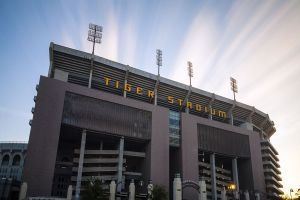 Afternoon Game Itinerary
Grab a Big Breakfast before the Big Game
Before heading over to Baton Rouge you need something touching your stomach, a hearty, delicious breakfast loaded with delectable carbs. Head over to Red Dog Diner on Magazine Street and grab one of these handsomely prepared breakfast dishes. We recommend either the Prime Rib Benedict or the Sweet Potato Waffles. Both choices should keep you full on the ride to Tiger Stadium.
Hit up the Chimes
Once you get off the bus you might have a little more time before the game. Before grabbing a beer, or three, head over to this Cajun restaurant on Highland Road. It's about a 13-minute walk through campus, but it's well worth it. For generations, students and alums have created great memories at this place. It's definitely due to the great beer, half-shell oysters and blackened alligator plate served up here.
Or catch a tailgate on Parade Grounds
Follow the tents and Cajun food smells to this common ground. LSU tailgates start the night before the game and will last until game night. Since the parade grounds is right across the way from the stadium this could be the perfect way to grab some delicious food and beer while getting pumped up for the game.
After the Ride Home
You should get back to New Orleans around midnight, but if you still got some energy (because of that relaxing bus trip back home) hit up Frenchmen and Bourbon Street for some late night fun.
Late Night Game Itinerary
Relax a little on the River
Take a morning cruise on the Paddlewheeler Creole Queen and level up on your New Orleans trivia. The Historical Cruise takes you back to the city's settlement period, from the great French Quarter fire in 1794 into the Battle of New Orleans, literally. The riverboat stops at the grounds of the famous battlefield. Plus, there is a delicious creole buffet option on board and a cash bar ready for all your local cocktail requests.
Or Head Over to Borgne for Some Seafood
If you happen to be staying at the Hyatt Regency you're in luck. This joint is located just off the lobby and serves up some decadent French-Creole food. Either sit in for a plate of crawfish etouffee or find a stool at their well-stocked bar where beer and Louisiana oysters seem to thrive.
After Your Rally Bus Ride back to New Orleans
Instead of hitting up all the bars and jazz spots on Bourbon and Frenchmen, you can choose to take all your saved energy to Café du Monde for an order of warm beignets. If you had a few too many beers, eating this fluffy treat may help to curb that morning hangover.
---

Rally is crowdpowered travel for the 21st century. Their technology connects you with other riders going to the same event or destination, then delivers high-end buses to get you there and back. Choose from preset trips or set up your own, then share your trip, invite friends, and relax...your ride is covered. | Learn more or book now at rally.co/louisiana-state-university-tigers