Big Easy Recommends: Best Places to Watch Football in New Orleans
Posted on: Aug 17 2018
It's no secret the New Orleans local football team are the heart and soul of New Orleans. We take this football thing serious, y'all. If you need proof, just come visit us during the season and see for yourself! From August until *hopefully* February, the "Who Dat Nation" fills the city with black and gold. Of course, there is no place quite like the Superdome during a football game, but if you're just looking to hang around the locals at a bar, here are a few of the best places to watch a sports game in New Orleans.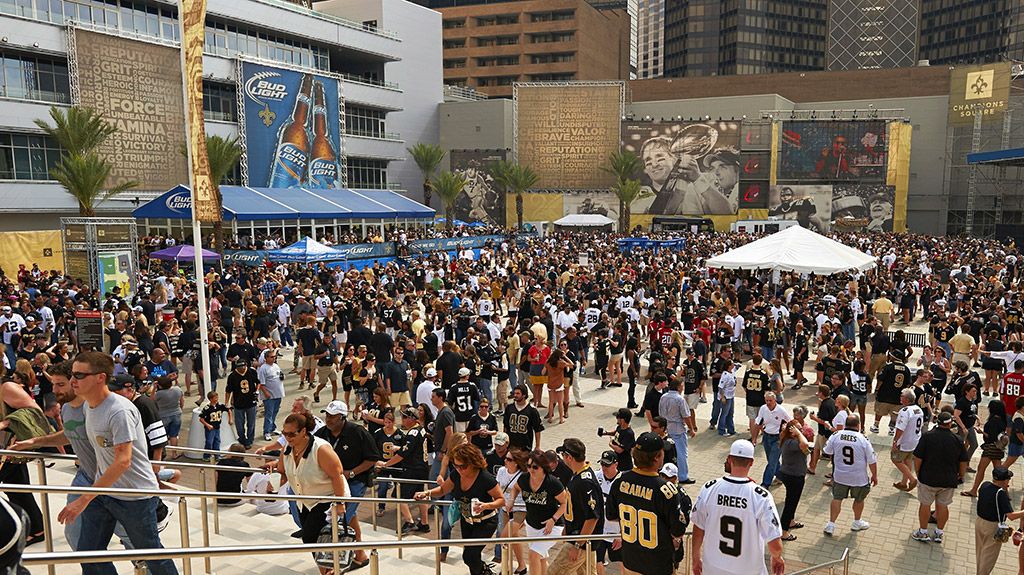 Prior to each home game, Champion's Square is the biggest pre-game party in the city and is just a few steps away from the infamous Mercedes Benz Superdome. Entry to the Square is free and open to the public, so grab your squad and get rowdy with football's best fans. If you aren't going to the game, don't worry- there's plenty of bars in the surrounding area for you to continue the party!
Walk-Ons Bistreaux & Bar, conveniently located a few blocks from the Superdome, is one of the most popular places locals and tourists go to watch sports games. With over 100 flat-screen TVs, great food and drinks, and a fun sports-themed atmosphere, it's no surprise they were voted "No. 1 Sports Bar in America" by ESPN. It also helps that our beloved quarterback Drew Brees is co-owner of the company.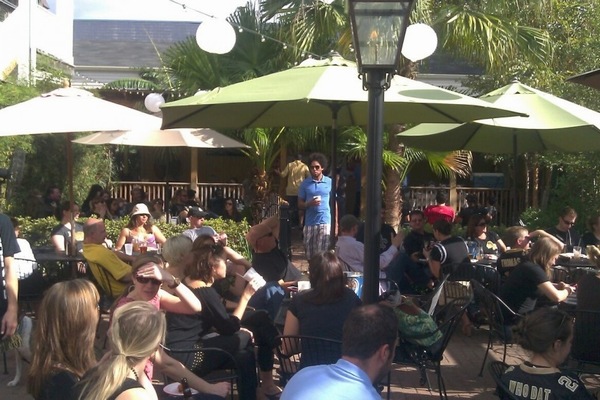 The Rusty Nail might be a little hard to find as it is located almost directly under the I-10 overpass, but don't let that steer you away from the popular Warehouse District bar. On game days, they bring in bleachers for regular season games and play music during commercials to give their patrons the best game-day experience. During football season, every Sunday they have $13 domestic buckets with $1 from each bucket sold donated to the local non-profit organization Team Gleason and food specials from McClure's BBQ.
What better way to watch a football game in New Orleans than by going to the restaurant/bar of New Orleans legend Archie Manning? Manning's, located in the Central Business District, known to be a "sports lovers paradise" with sports memorabilia from the Manning family, two 13-foot big screens, over 30 flat screen TVs, a spacious outdoor patio, and a reclining section called the "End Zone." The food menu features comfort food from Archie's home state of Mississippi with unique Creole twists dedicated to the time he was in New Orleans. No matter who you are cheering for, this is the place to "Eat, Drink, and Cheer!"
A little off the beaten path of the downtown buzz, Bayou Beer Garden is a prime spot for gameday. Their extensive beer selection, a spacious back patio, big screen TVs, great food, and beer bucket specials are what keeps the locals flocking to this cozy bar. Also, two words: DISCO. FRIES. Trust us, just get em! Get out there early to claim your spot.
While Barcadia is a fun spot to hang out and watch the games, the real fun begins after the games when the fans that attended the game flock over to continue the party. There are 44 taps for draft beer and over 80 bottled beers, a unique food menu and games such as Jenga, Air Hockey, Pac-Man, Skee-Ball, and many more. Win or lose, New Orleans fans know how to party and Barcadia is the perfect sports bar to do so. Plus you never know, a few players might show up after to party with the city!
Any place that is filled with fans, food, and football is good in our book. Here's to another fun season. Who Dat!
August 17, 2018 | Author: Rachel Tumminello