Origins Of New Orleans'
Posted on: Oct 04 2018
Why is New Orleans Called the Big Easy? Origins trace back to Jazz Chatter, Conway's Mystery Novel, Newspaper Columnists, New Orleans' nightlife, or a little bit of everything.
New Orleanians rarely refer to the city as the "Big Easy." Locals like to say "New Or-leens," or "New Or-lee-ans." Also, if we're giving someone our current location we tend to use street names, "heading to bourbon," getting some beignets in the Quarter," or "brunch on Canal" The one thing we do not say is "Nawlins," at least not today's locals.
So how did the "Big Easy" become the city's nickname? Here are four theories that can trace the nickname's origins back to the early 20th century.
#1 - Jazz Musician Chatter
A 1900 dance hall in Gretna was called "The Big Easy Hall." It was where the famous cornet player Buddy Bolden used to play, which ties to a separate but equal theory that our rich jazz scene is what inspired the nickname. In the 20th century, New Orleans was known as a safe haven for struggling jazz musicians due to its culture and various jazz venues. To this day, whether a musician hits up Frenchmen or lands a gig at The Spotted Cat it is easier to find a gig compared to any other place in America.
#2 - 1970 Novel & Its Film Adaptation
James Conway crime novel's (The Big Easy) publication in 1970. The novelist used to work as a police reporter for the Time-Picayune in the mid-1960s. One day while he was walking to the criminal courthouse on Claiborne Avenue, he overheard two African-American men talking about "the big easy." Conway wasn't sure what they were referencing but felt like it was a wonderful phrase. It stuck with him two years later when he chose his book title. Another columnist named Betty Guilland picked up the nickname for her New Orleans' column in the 70s. Then later the name had appeared in the novel's film adaption in the 80s driving home its popularity.
#3 - Times-Picayune Columnist Betty Guillaud
During the late 1960s, Guillaud tried to find a way to describe New Orleans' unique lifestyle by comparing it to the "Big Apple," which references New York City. Strangely enough, New York's nickname is rumored to have come from an African American stable hand in New Orleans during the 1920s and later used by a New York newspaper columnist Fitz Gerald in the 1930s.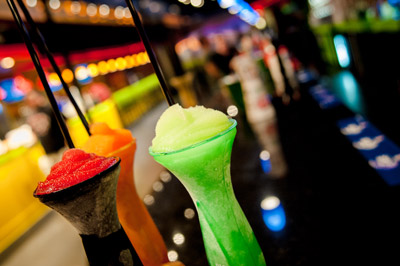 #4 - Drive-Thru Daiquiris & Go Cups
The city's extreme lax drinking laws, even during the Prohibition. Technically it wasn't illegal to drink alcohol during the Prohibition. The 18th Amendment banned the selling, manufacturing, and/or transporting of intoxicating liquors, not its consumption. Besides that, New Orleans is pretty much the only place where you can grab a drive-through daiquiri and carry an alcoholic drink in the streets with you as long as it's in a go-cup.
October 8, 2018 | Author: Jasmine Holloway