The Latest at Big Easy
Posted on: Oct 20 2017
Hospitality Enterprises Inc.'s Sales Manager, Sharon Reuther, Wins at the Annual 26th Silver Plume Awards for Spirit of Hospitality
We love that our team is full of friendly and energetic spirits. That way we ensure your NOLA memories are full of unique experiences. Well, we have to be doing something right. Our Sharon Reuther was honored at Where New Orleans' 26th Annual Silver Plume Awards for her amazing Spirit of Hospitality.
Sharon Reuther was selected along with seven amazing nominees in the New Orleans hospitality industry, and was incredibly honored to win along with Michael Gabriel of the Omni Royal Orleans. Where New Orleans says this award is "for someone who has infused the industry with their energy, enthusiasm and commitment over the years, while continuing to get high standards for the tourism profession."
Sharon worked with us for more than 25 years promoting New Orleans Airport Shuttle, New Orleans Tours, and the Paddlewheeler Creole Queen. Truly a jill-of-all trades, Where New Orleans' compliment on Sharon's warmth and energy could not be more accurate. She brings a great number of convention groups to New Orleans and she doesn't stop with their arrival, dedicating her time to making sure her groups have a great experience. Where New Orleans says she is "one of the brightest stars in their galaxy - Always fun, always professional. Everyone who knows her has experienced Sharon's open-heart and unconditional enthusiasm, it is the signature of her personality."
At Hospitality Enterprises, we whole-heartedly agree. Thank you for being a part of our team Sharon. You are one of the reasons so many visitors carry unique memories with them back home.
Paying It Forward, and Paying It Back
Over a decade ago, Hurricane Katrina devastated many local businesses and families – our own included. Now in 2017, we are seeing the same patterns of devastation and loss. Our hearts go out to everyone affected by these disasters for we remember all too well what it was like to bear the aftermath of an incredible storm. Our President and CEO Warren Reuther, along with many of our Hospitality Enterprises employees, were moved by these events and dug deep into their own pockets to donate over $15,000 to hurricane victims in Houston and Puerto Rico.
Our Ada Lovelace Award Nominee
Hospitality Enterprises appreciates women in tech and we love this award. LookFar's Annual Ada Lovelace Award celebrates the women of the Gulf South who have made a big impact in the tech community. This year we were thrilled to learn that our Digital Marketing Director and Tech Support Manager Lydia Mulero was nominated. We're so proud of her and what she has been able to do for the business online. Although she's only been with our company for a short time, she has increased our online presence exponentially through social media channels and SEO practices.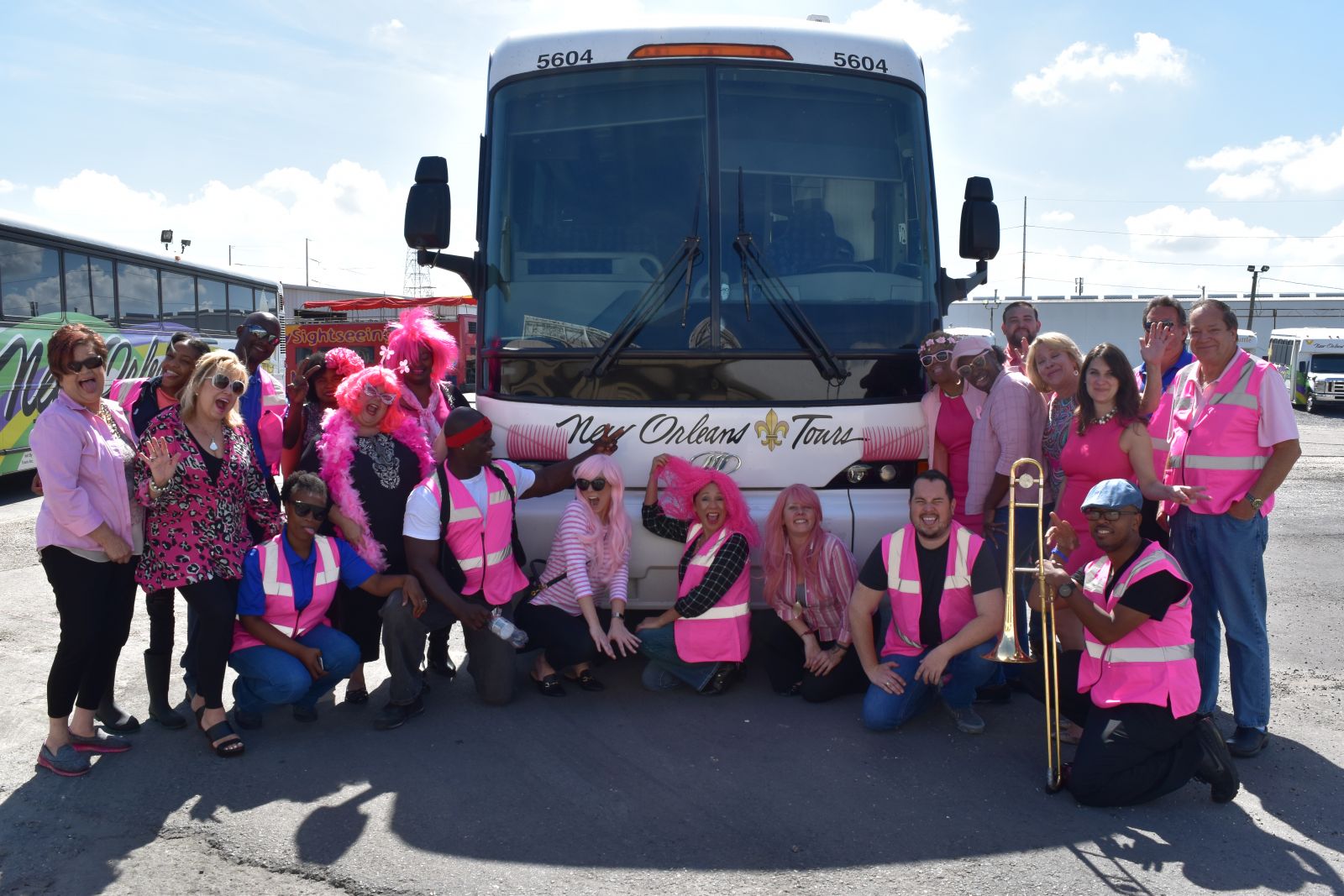 Shrimp Boil for Breast Cancer Awareness
October is Breast Cancer Awareness Month, so the whole Hospitality Enterprises family got together for a shrimp boil to support this great cause. We celebrated the day with all attendees decked out in their best pink apparel and wigs – one of our New Orleans Tours busses even got in on the costuming with a gorgeous set of pink eyelashes! After a delicious meal of fresh Louisiana seafood, we all wrapped around the bus with smiles for photos and Jazz, thanks to our very own New Orleans Tours driver Strother Davis' trombone skills. Davis also stuck around to play a special Big Easy version of the Birthday Song! Check out these photos from a fun day with our great employees.