Things To Do In New Orleans In December
Posted on: Dec 07 2017
When your family comes together for the holidays your senses are heightened and memories are adjusted for the occasion. You may begin to reminisce about the smell of Domino's Sugar and cinnamon as your momma stirs her decadent sweet potato pie, or the acrid scent of smoke in the air as you watch Jackson Square fireworks from your front row seat on the Paddlewheeler Creole Queen. There is nothing like the holidays in New Orleans!
Whether you're warming up your pipes Caroling in Jackson square or looking at the beautiful decorations covering the oaks in City Park, your holiday vacation in New Orleans will always be memorable. To help you create those Big Easy memories we've put together a list of some of our favorite holiday events in New Orleans.
GET THE SEASON STARTED
Date: December 9th
Time: Pre-Party- (7pm-9pm); March-(9:15pm)
Location: Pre-Party-BB King's; March-French Quarter
Price: $20
Stay a little longer and check out the Krewe of Kringle. On December 9th, catch all type of holiday characters marching through the French Quarter. The parade route starts at BB King's and Molly's and ends at Pat O' Brien's/Boondock Saint. You can either watch it for free or purchase a $20 ticket that includes beer and shot specials along the route.
Date: December 6 – 9th
Time: 6 pm - 10 pm
Location: Lafayette Square
Price: FREE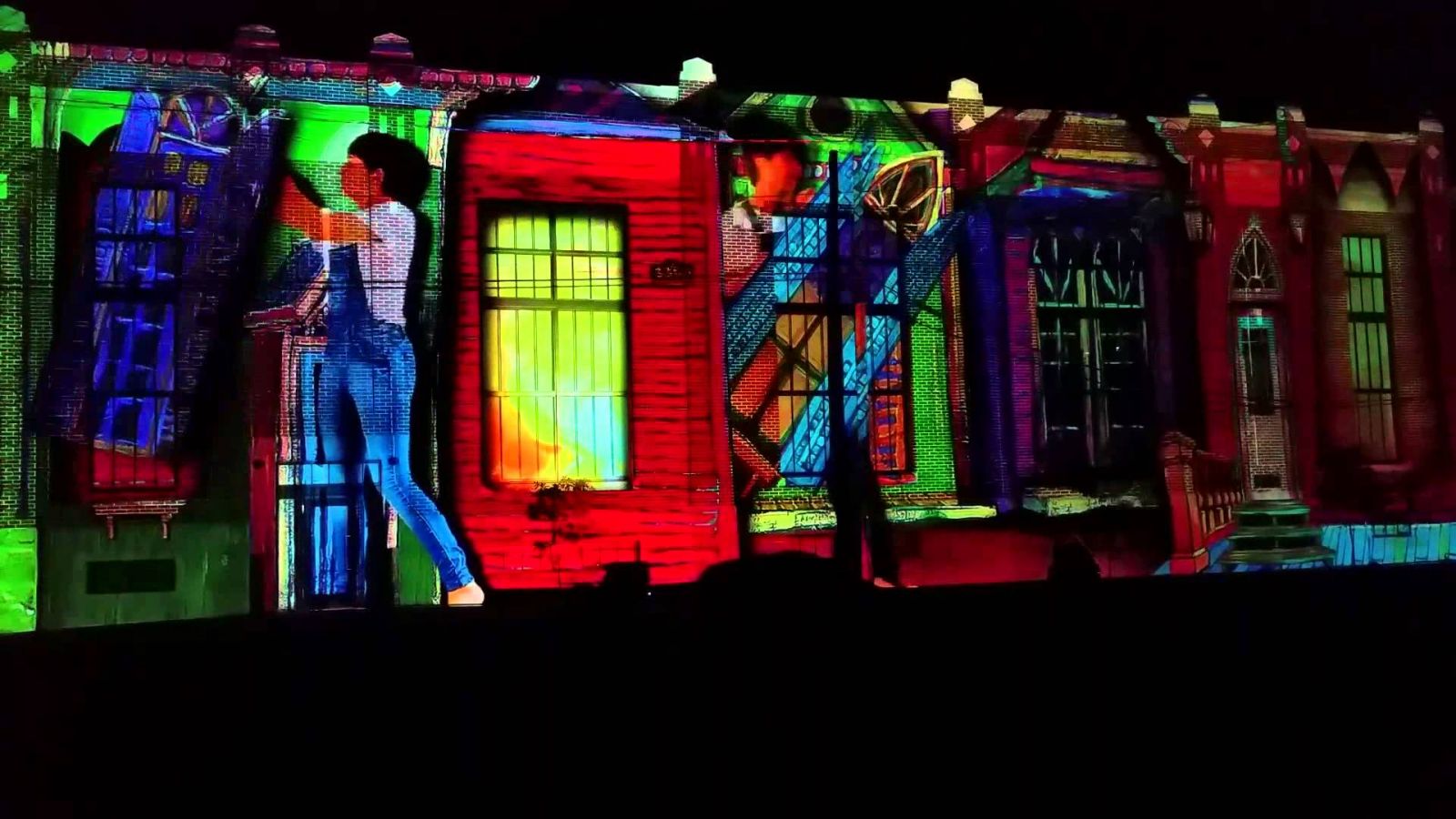 Beautiful light Projections during Luna Fete
Don't forget to check out at the animated projection on Lafayette Square starting December 6th. LUNA stands for "Light Up NOLA Arts" and it does exactly that. Local school kids contribute their artwork and acting skills for the project and it just gets more beautiful and inspiring every year.
3. Gorge On Latkes at Latkes with a Twist @ The Little Gem Saloon
Date: December 14th
Time: 7 pm
Location: The Little Gem Saloon
Price: $25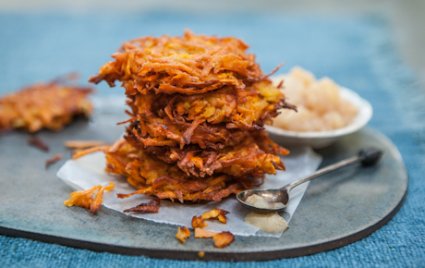 Latkes & Apple Sauce Anyone?
If you celebrate Hanukkah, the smell of fresh potato pancakes in the winter gets you ready for the season. Even if you don't, you'll love these amazing potato pancakes (latkes), free latke vodka, and live music!
Holiday Dates: Open Christmas Eve & New Year's Eve
Holiday Hours: Christmas Eve- 8am-5pm; New Year's Eve- 9am-5pm
Location: Mid-City
Price: May Vary depending on your sweet tooth

Cannoli for Days at Angelo Brocato's
Every New Orleanian has probably had a scoop of ice cream from this place. For over 100 years, the Brocato Family has been making their famous Italian gelato and cannoli for the city's sweet lovers. We usually just bring a pint home, but that's only after having four or five scoops inside their Mid-City location. On the Eve of Christmas and New Year's, try their Rum Custard flavor and their pastries, oh and their biscotti's!
PARTY WITH PAPA NOEL
If you're thinking about Christmas in New Orleans, you have to be thinking about the great Cajun Papa Noel riding with his alligators to bring gifts to the little kids in the bayou "quicker than a snake shimmies down the river." There are so many events celebrating and encouraging Papa Noel to make his visit to us every December.
Date: December 23rd
Time: Boarding: 10 am-10:30 am & 1:30 pm -2 pm
Cruising: 10:30 am-12 pm & 2 pm-3:30 pm
Location: Boards at Spanish Plaza | 1 Poydras St. NOLA
Price: Adults- $59; Children (3-12)- $39; Children (0-2)- $10 (taxes included)
The Paddlewheeler Creole Queen welcomes families into the world of Papa Noel and his jolly crew with classic holiday tea and tempting treats. There's Cajun storytelling, face painting, magic tricks, presents, and a chance to hold a live alligator y'all! This kid-friendly event will fill your little ones' minds with the wonder and delight that abounds during the holiday season.
Date: December 23rd
Time: Boarding: 10:00 - 10:30am AND 1:30 - 2:00pm
Cruising Time: 10:30am - 12:00pm AND 2:00 - 3:30pm
Location: Boards at Spanish Plaza | 1 Poydras St. NOLA
Price: Adult: $59.00
Children (3-12): $39.00
Children (0-2): $10.00 [CALL TO RESERVE]
The Paddlewheeler Creole Queen also provides a delightful and delicious Christmas Eve dinner for those who would rather leave the cooking and cleaning in their professional hands. The menu this year includes everything you'd expect to find on ya momma's holiday dinner table like turkey gumbo, Steen's baked ham, and smoked beef brisket. Y'all know we didn't skimp on those desserts either – we got both pumpkin and pecan pies, and of course our famous bread pudding with whiskey sauce. Add that to our amazing live entertainment and you got yourself a real good time. Adults and kids of all ages are welcome and will love this Christmas cruise!
7. Bonfires on the levee
Date: Christmas Eve
Time: 7 pm
Location: St. James Parish (Gramercy, Lutcher, Paulina)
Price: Free
After you hang with Papa Noel on the Creole Queen y'all can come pass a good time on the levee in St. James Parish (30-40 miles upriver from New Orleans) for a Christmas Bonfire, aka Cajun Burning Man. This is not just any ordinary bonfire, it's a southern Louisiana tradition started by Cajun settlers who wanted to light the way for Papa Noel on his journey to the bayou. Each year more than 100 unique bonfire sculptures burn for the occasion!
Date: Open Every Day (except on Christmas Day)
Time: 10:00am, 12:00pm, 2:00pm & 4:00pm
Location: Jean Lafitte National Park | 4757 Orleans Way Marrero, La
Price: Starting at $29 ($10 off coupon available here)
After lighting his way, take a tour of the swamp to get an idea of how Papa Noel and his gators navigate through Louisiana wildlife. If you ever read "Cajun Night Before Christmas" you may understand, but just in case you haven't read the tale here is what happens:
In the midst of Mama making ham, gumbo, and yam over the fireplace someone hears a clatter. Papa Noel calls his gator-deer, "Ha, Gaston! Ha, Tiboy! Ha, Pierre an' Alcee! Gee, Ninette! Gee, Suzette! Celeste an' Renee!" They climb the chimney, then Papa Noel delivers the presents, down a red-hot chimney with rosy-wine cheeks, and after a wink in his eye...an' a shook o' his head, he exclaims, "Marry C'rismas to all...till I saw you some mo'!"
We don't know about y'all, but we would pass a good time with Papa Noel and his gators if we could, but since we can't the closest thing is visiting the swamp where he makes his Christmas deliveries. Naturally, the swamp closes on Christmas Day to give Papa Noel and his gators some time to recoup, but you can swing by right after that to enjoy the winter bayou and the local gators that call Jean Lafitte Swamp home.
Ring in the New Year With the Creole Queen
Date: December 31st
Time: Boarding- 10pm-11pm; Cruising- 11pm-1am
Location: Boards at the Spanish Plaza | 1 Poydras St. NOLA
Price : $189 (dinner and open bar included)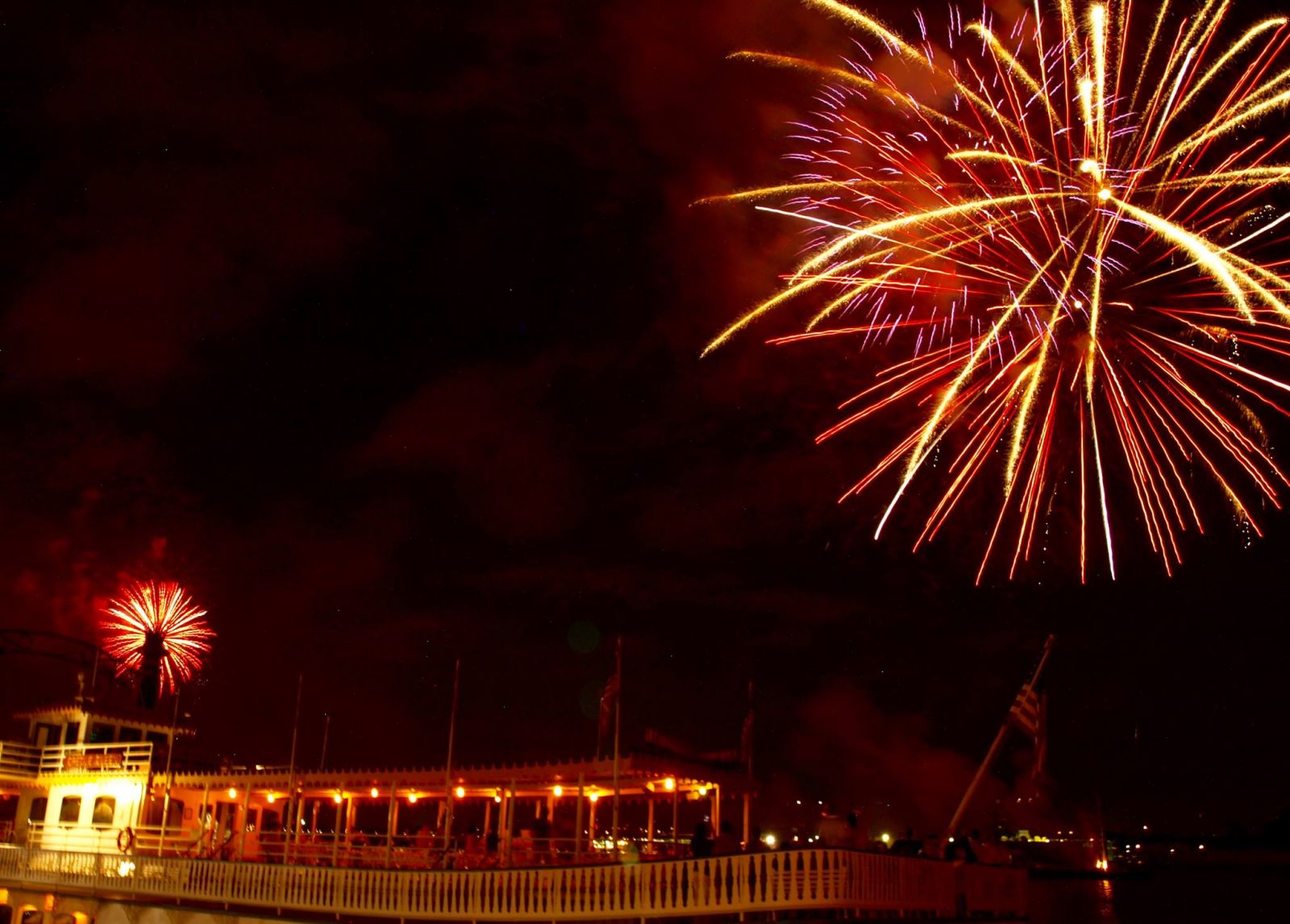 After all that, New Orleans will be getting ready for its tricentennial year! There is no better way to celebrate 300 years of New Orleans than by cruising on the river that brought us all together. The Paddlewheeler Creole Queen will be hosting a New Year's Eve fireworks Cruise on the great river with a live performance from Batiste Father & Sons of the New Millennium. There will be an open bar, delightful hors d'oeuvres, a lavish Creole buffet spread, and front row seats to the best fireworks show in the city.
Don't forget to Grab a New Orleans Holiday Cocktail
In the Big Easy you have to get a cocktail or two. With bars filling corners like a good, old-fashioned quality paint brush, you bound to walk in one sooner or later. However, when you do try slipping in a bar that offers great holiday cocktails.
Here is a list of a few bars that serve a little holiday in their drinks:
Bar Tonique (Hot Apple Toddy & Hot buttered rum)
The Bombay Club in the Prince Conti Hotel (Eggnog Noel)
Arnaud's (The Contessa)
Sazerac Bar (Santa's Candy Cane, Mrs. Claus' Cookie, and the Holiday Fashioned)
Carousel Bar (Joyous Noel & Colleen's Green Apple)
Check out More Great Holiday Drink Options Here.
This list should bring nothing but great Holiday memories. Let the Good Times Roll!
Written By Jasmine Holloway